Did you ever question where does your website ranks for keywords or how to check your SEO ranking? Maybe you just wanted to see how your site performs in SERPS. In this post, I will show you how to check website ranking on google with free tools. Stay tuned.
You MUST know where is your website ranked on Google for specific keywords. Of course, many bloggers don't even publish posts based on a keyword and this is a HUGE mistake. To get the most from search engines you need to focus your posts on specific keywords.
But, how to check website ranking in SERP?
One recommended tool to check SEO ranking for keywords is SEMRUSH or the Google keyword search tool . This tool tracks everything so make sure you take the advantage of it. You can now register for a free Semrush account on the link above.
So, where is my website ranked on google?
You just finished your SOnpage SEO optimized article and hit Publish. The next step is to build as many quality contextual backlinks as you can. But keep in mind: quality > quantity. You also need to see where your site ranks for your keyword. A well-researched keyword is one of the best factors to rank higher in search engines. If you can't compete with high authority domains don't even try to focus on a hard keyword. You must aim for the keywords that keep your blog in the first few pages of the results. If you optimize your post for on-page SEO then it should be easy to rank in the first 4-5 pages of Google.
To improve your SEO rankings you must find keywords with a decent search number per month and also that are not hard to rank for. How to see if a keyword is hard to rank for?
Simple? You need to have Mozbar Browser extension. Then type your keyword in Google search and check the first page. For example in my case, I searched for "contextual link building".
Here is what I've got:
These are High Authority domains and are hard to compete with if you are new. In order to compete with them, you need to increase domain authority as well as the page authority of the post. Building quality backlinks is the best way to achieve that. However, I'm still on the 3rd page for this keyword because of the good on-page optimization. You can do that as well.
This is the manual method to check SEO ranking for keywords.
How to check website ranking on google? The automated ways
1 – SEMRush
One of the SEO expert's favorite tools to check website ranking in Google search is SEMRush. This tool is perfect to spy on your competition and check google rank for a keyword. For example, we took a website and put it in the input box, and hit search. Then we go to "Organic Research" and check the results. You will see all keywords the site ranks for and even the position. This tool is awesome.
2 Weeks Trial on SEMRush for FREE
How do I know what keywords my site ranks for? With SEMRush because it has awesome features and it is the most complete tool to see what keywords is your site ranking for.
2 – SiteChecker Pro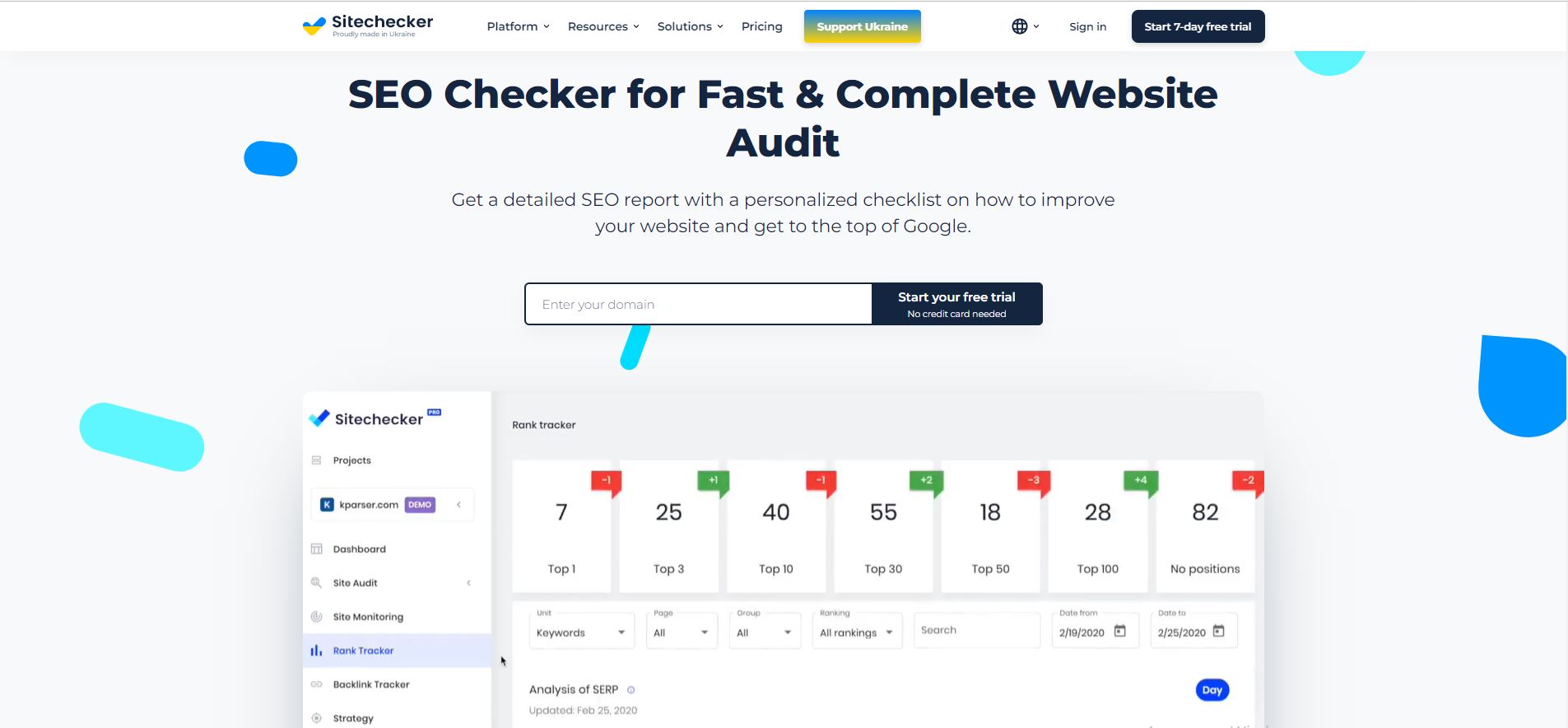 The Sitechecker creates new possibilities for constant improvement and monitoring of the quality
of your website. This multifunctional tool will allow you to analyze the search results for any of
the keywords and compare them with the results of your competitors. Using this tool, you will be
able to qualitatively sort and filter keywords to determine the most successful and appropriate
ones for your site. Sitechecker will help you track your site's ranking in any search engine on
mobile and desktop devices.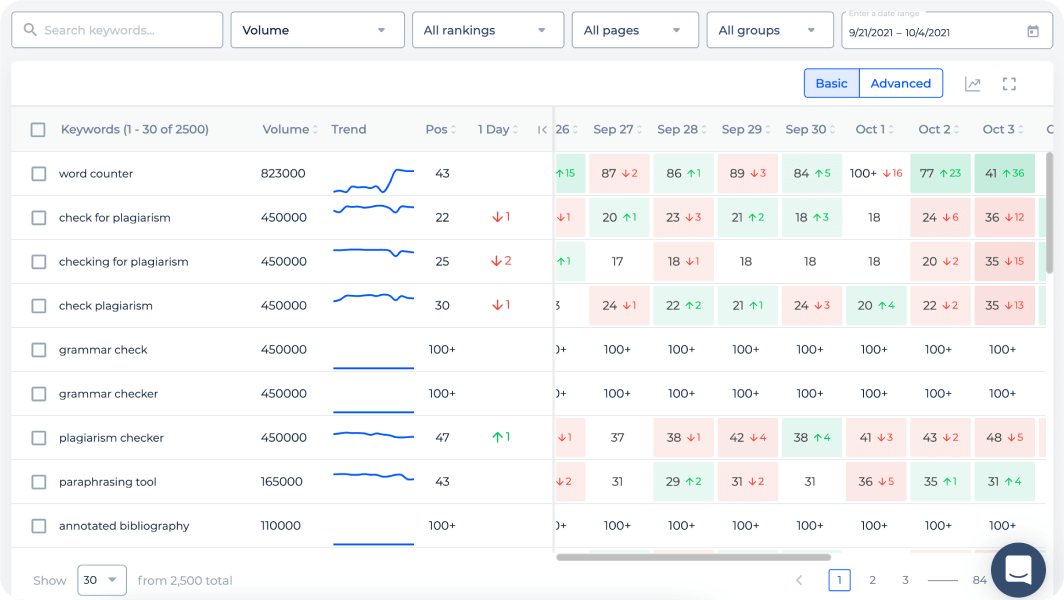 3 – ODT SERP Checker
The 3rd tool is Online Domain Tools SERP Checker. It is similar to the 2nd SEO ranking checker. ODT Serp Checker has a slightly better interface but you can check google ranking only for one keyword at a time. This tool has decent accuracy and will show you the first 100 results for your keyword (5). Here I checked for "contextual links SEO" (2) and this is what I've got:
4 – SERPS Rank Checker
Another handy tool to check where is your website ranked on google, SERPS Rank Checker has the most beautiful interface among all free keyword rank checker tools. However, you can check for 1 keyword at a time but one cool feature is that you can check from the exact location. This is good for Local SEO ranking checks. SERPs Rank Checker has another nice feature: you can check even for mobile phones. How does this tool look?
Same as majority keyword position trackers: 1 – put your keyword you want to check ranking; 2 – enter your domain; 3 – select mobile or desktop device; 4 – location from where your site ranks on google for that specific keyword and hit GO. After a few seconds, you will get your result (5). They also have a free trial, however, their price/month versus the offer is so expensive.
I still recommend SEMRush because of the price/quality and what they offer.
5 – SERP Checker
My other favorite free tool to check website ranking in Google is What's My Serp – Serp Checker. The only downside of this keyword positioning tracker is the ugly interface. However, this is great if you want to check if your site ranks for a specific keyword. Here is how you do that:
First, you go to the link and you will see something like this:
First, you put your website url: like www.mywebsite.com (1) then you select the region (2). In our case, we wanted to check on .com or global.
After that, you need to put your keyword (3) and hit the magic button (5). With this tool, you can check where does your website rank for keywords on a specific page. But, if you know the keywords. It is good to track your ranking changes for keywords. Despite its ugly interface, I love it. And the best part, you can check ranking for multiple keywords and it will show you if your competition has the keyword in the title and description.
6 – Other tools to find google ranking for a keyword
On the last position are SEO Centro Rank Checker and Serp LAB Rank Checker. However, they are my least favorite keyword position trackers. SeoCentro did not find my position for "contextual links SEO" on Yahoo and Bing. However, when I manually searched for them I was able to find my position. SerpLab's because it flags me as a robot so many times and I'm unable to find my rankings for a keyword.
Conclusion – My favorite tool to check your SEO ranking
I think you guessed it: SEMRush all the way. This tool is the best to find what keywords a website is ranking for and is awesome to spy on your competition. But if you want just a simple tool to check where your site ranks for a keyword you can use all of them and choose the one that suits you the best.
But until then make sure you take SemRush for a test drive for 14 days with full functionality.
I have 2 questions for you:
What is your favorite tool to check website ranking in google search?
Do you use other tools to find what keywords a website is ranking for and spy on your competition?
Feel free to answer them below. I would love to test them.
This article is perfectly timed for me, I'm buidling a new blog and starting over from scratch. Great tips to monitor my own rank and how to scope out the competition.

Glad it helped you and good luck with your blog also!

This was actually very helpful! Thanks for sharing!

I need to take a few minutes today and check out my website ranking. I'm glad you gave several tool options to choose from. Thanks for the step-by-step tutorial.

Every blogger should track his blog rankings. You are welcome.

This looks very helpful. I will bookmark for later! Thanks

Good to know that you have all these tools to check. Google ranking can sometimes be complicated and it's good to have reliable tools that you can use. Thanks for the very detailed list!

There are more but these are my favorites, free and paid also. You are welcome.

This information is so helpful! Thank you for sharing.

I like to know how to find out things like this. I know my website ranking but I haven't checked in awhile so maybe I don't, lol! Checking now.

Thank you for sharing these great tips. I just favorite this post so I can remember the steps.

Thanks for sharing all this. I'll have to check it out. I don't check my ranking very often.

Wow, this has been highly informative and a wonderful learning experience regarding my own site and how to improve it even further. thank you for the wisdom shared

Even after 6 years of blogging (4 of which have been as a way to make money), I still have a lot to learn about SEO. Thanks for sharing these resources.

Such a wonderful resource that will come so handy for many website owners & bloggers. Honestly I have near heard about any of these before, but it sounds quiet amazing that you have automated options to check the site rankings so easily.

Wow! This is a great way to check my rating for my blog. Thank you for this informative article.

These are useful tools to check out google position but in a big volume requirements unfortunately these tools are not enough. We built a smart system that is capable of scraping Top-100 results of more than 2 million terms per hour. I kindly recommend you to check out our website and test our service.

Best Regards

Very detailed articles. One thing more I want to contribute is that AveAPI which is the most powerful and low-cost SERP API in the market.

[…] you're looking to get ahead and improve your website ranking, WooCommerce can be a fantastic pick. If you plan on using it, however, you need to know what's […]