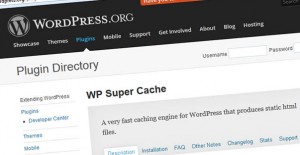 Every WordPress developer has a list of plugins that can't live without. That's a good thing about this blogging platform – it offers great flexibility.
---
But with so many free and premium plugins available, how do you sort the good from the bad? Bellow is a collection of some plugins that every blogger should have and that will help boosting your website performance and quality.
WP Super Cache
WP Super Cache Plugin
WP Super Cache is one of the most popular and most  easy to use caching plugins for WordPress. It's settings are very simple and easy to understand for any user. Caching is the best way to easily improve your users experience without having to make change to your site's content. Another good alternative for this plugin is W3 Total Cache but I love lightweight solutions.
 Akismet
Akismet
Akismet is an advanced anti-spam service aimed at thwarting the underbelly of the web. Akismet checks your comments against the Akismet Web service to see if they look like spam or not and lets you review the spam it catches under your blog's "Comments" admin screen.
 iThemes Security
iThemes Security Plugin
Details
iThemes Security (formerly Better WP Security) gives you over 30+ ways to secure and protect your WordPress site. On average, 30,000 new websites are hacked each day. WordPress sites can be an easy target for attacks because of plugin vulnerabilities, weak passwords and obsolete software.
Most WordPress admins don't even know they're vulnerable, but iThemes Security works to fix common holes, stop automated attacks and strengthen user credentials. With one-click activation for most features, as well as advanced features for experienced users, iThemes Security can help protect any WordPress site.
Google Xml Sitemaps
Google Xml SIteMaps Plugin
This plugin will generate a special XML sitemap which will help search engines like Google, Bing, Yahoo and Ask.com to better index your blog. With such a sitemap, it's much easier for the crawlers to see the complete structure of your site and retrieve it more efficiently. The plugin supports all kinds of WordPress generated pages as well as custom URLs. Additionally it notifies all major search engines every time you create a post about the new content.
Contact Form 7
Contact Form 7 Plugin
Easily the most popular free forms plugin out there, Contact Form 7 has racked up more than 19 millions downloads in the WordPress Plugin Repository.
This plugin can manage multiple contact forms, plus you can customize the form and any email content with simple markup. It also include support for AJAX-powered submission, CAPTCHA and Akismet spam filtering.
If you want to step things up a notch, Gravity Forms is a popular premium forms plugin.