I am very pleased to announce today's release: WeCodeArt Framework 1.8.8. This version of the WeCodeArt framework includes several enhancements, bug fixes, and general housekeeping items.
A big thanks to Bootstrap 4.3 (Foundation 6.2.4)for their awesome Flexbox CSS framework and FontAwesome 4.7 for their great artwork. As always, this community continues to impress. Thanks, guys!
Read on to find out more about what's new in WeCodeArt 1.8.8 and what we removed. I will just highlight the most important changes/fixes/improvements that are worth mentioning in this post. The up to date demo can be checked here: https://wp-themes.com/wecodeart/
WP Customizer Live Preview
It's finally fixed, now what you see is exactly what you've got. In the last releases, I've had a problem with the LivePreview feature on fresh theme installation. In order to see how your site will look on the front-end, you needed to change Customizer theme mods once. So, if you don't do that you will end up with a faulty design in the front-end, usually without header modules, loop and sidebar and footer modules. This will make most new users to uninstall the theme at once. Now you don't have to worry about that anymore, all these mods have a default value matching the one from the fresh installation in WP Customizer.
WP 4.7 Custom Header Media
WordPress, once with version 4.7, introduced a new feature for the themes called: Custom Header Media. If you are not familiar with this feature you can test drive Twentyseventeen default theme and see what I'm talking about. For me, it seemed a very interesting feature – you will see this type of "feature" present on top websites, is more like a Hero image or video on front page with an awesome call to action. The new theme has a similar feature, however, I imagined this a little bit different.
I introduced a new Section in the Header Options panel (WP Customizer) called Header Media. Here you can set a header hero image or video and, in addition to WP defaults, you can also change between a normal header media and a fixed one. The fixed one will behave just like Twentyseventeen theme and the normal one will scroll up when you scroll.
With the introduction of the Custom Header Media, a reworked Header Bar was needed. Now you can fully disable Header Bar by disabling all its modules. In addition to the last version options (normal and fixed header bar) now you can set where the TopBar will be fixed; top for top of the Header Media and Bottom for Bottom, you've got the point. See in the video bellow how many types of Headers you can make with this options.
video soon
WeCodeArt Framework v1.8.8 Compatability
Once with the new WordPress 4.7 update and our theme version 1.8.8, I introduced a new feature – compatibility check – so, if you don't use latest WP, you will not be able to run WeCodeArt Framework v1.8.8 . This is because our theme uses some of latest WordPress functions like Header Media and without this, your site will crash – this feature will prevent that.
Version 1.8.8 Additions and Fixes
NEW – Fully Compatible with WordPress 4.7
NEW – Custom Header Media (image or video)
NEW – Added Header Media type mod – normal and fixed
NEW – Custom Front Page Layout (check Static Front Page in WP Customizer)
NEW – Custom Header Media (image or video)
FIX – Layout Defaults for Customizer and Front End ()
FIX – Improved Header Bar
FIX – Sticky Header Bar js
Plus much more small fixes that does not worth mentioning.
Version 1.8.8 Removals
Removed – Google Font in WP-Customizer (caused error – will return in next versions)
Removed – JS theme and theme init plugins in WP-Customizer (files also)
Conclusion
Furthermore, with the removal of Google Font Customizer control, WeCodeArt passes all Theme Check security tests. I'm proud of that.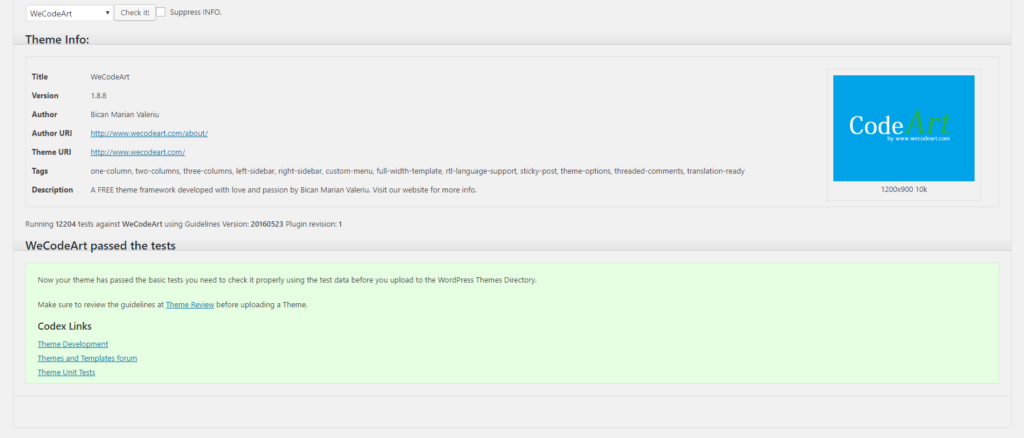 Also, check some GTmetrix, Pingdom and Google Pagespeed tests for our base theme test URL: https://wp-themes.com/wecodeart/
Let me give you some numbers: under 1 sec loading on shared hosting, 85 mobile scores, 95 desktop score and 100% on Pingdom (with 0.5 sec loading) and GTmetrix. WeCodeArt integrates perfectly with W3 Total Cache plugin for maximum performance.
If you don't have the latest version, subscribe and download, Is FREE.