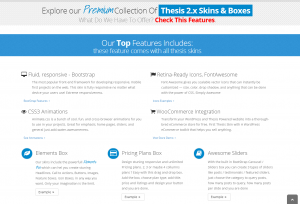 Today we'd like to share my awesome Thesis skin with you. You have certainly seen many skins, themes and other plugins but I guarantee you that my skin will simply amaze you. We Code Art Thesis Skin use some of the most famous web resources like Twitter Bootstrap, FontAwesome vector icons,  DanEden Animate CSS and the best of all: WooCommerce Itegration and other stuning resources.
These are some of the WCA Thesis Skin:
-Retina-Ready Icons: Font Awesome gives you scalable vector icons that can instantly be customized — size, color, drop shadow, and anything that can be done with the power of CSS. Simply Awesome
-Fluid, Responsive – Bootstrap: The most popular front-end framework for developing responsive, mobile first projects on the web. This skin is fully respoinsive no matter what device your users use! Extreme responsiveness.
-CSS3 Animations: Animate.css is a bunch of cool, fun, and cross-browser animations for you to use in your projects. Great for emphasis, home pages, sliders, and general just-add-water-awesomeness.
-WooCommerce Integration: Transform your WordPress and Thesis Powered website into a thorough-bred eCommerce store for free. First Thesis Skin with A WordPress eCommerce toolkit that helps you sell anything.
Still not convinced about WCA Skin features…read on ! 🙂
We Code Art Skin Boxes
The best of all, this skin icludes some of the most usefull boxes that you will ever need. You don't have to worry about sharing buttons, author box, optin box, sliders box, elements box, post sliders, text boxes, pricing plans and more incredible tools for you.
-Elements Box
Our skins include the powerfull Elements Box which can hel you create stuning Headlines, Call to Actions, Buttons, Images, Feature boxes, Icon Boxes, in any way you want. Only your imagination is the limit.
-Pricing Plans Box
Design stuning responsive and unlimited Pricing plans. 2, 3 or maybe 4 collumns plans ? Easy with this drag and drop box. Add the box, choose plan type, add title, price and listings and design your button and you are done.
-Post Slider Box
With the built in BootStrap Carousel / Sliders box you can create 3 types of sliders like posts / testimonials / featured sliders. Just choose the category to query posts, how many posts to query, how many posts per slide and you are done
….and more
I hope you enjoy these little effects and find them inspiring!
To learn how to get my Thesis Skin for free stay updated to this blog. Information will be posted soon !